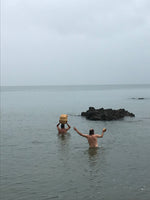 Welcome to Brickell Brac
It's brickells in your undies, in a cyclone, on Pot Rock at high tide. It's life as art. It's not conceding to the disease of convention. It's bric-pics on the Desert Road and energy activated by pots jiggling and grinding together in the back of the van, energising you and your purpose as an outlier, an outlaw, a pirate!
It transcends everything you thought being an artist was. It transcends everything you thought you knew about anything. It transcends the need to transcend. It reinvents the art world so we can stop rubbing each other's bumholes.
It's not the thing but how.
It's never over.